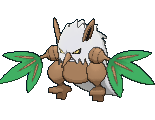 Type: Grass/Dark
Base Stats:
90 HP
100 Attack
60 Defense
90 Special Attack
60 Special Defense
80 Speed
Ability choices:
Chlorophyll Shiftry have doubled Speed in sun.
Early Bird Shiftry take half as many turns to wake up from sleep, rounded down for odd numbers.
Pickpocket Shiftry, if attacked by a contact move and not holding an item, steal the item of the attacker. (Hidden Ability)
Notable physical attacks: Leaf Blade (Nuzleaf level 28), Knock Off (tutor), Rock Slide (TM 80), Sucker Punch (gen 4 tutor)
Notable special attacks: Dark Pulse (TM 97), Energy Ball (TM 53), Extrasensory (Nuzleaf level 36), Focus Blast (TM 52), Leaf Storm (level 44)
Notable status moves: Defog (Egg move), Growth (Nuzleaf level 6), Nasty Plot (level 1), Swords Dance (TM 75)
Notable Z-moves:
Bloom Doom (Grass)

Physical – Converts one use of Leaf Blade into a base 175 physical Grass-type attack.
Special – Converts one use of Leaf Storm into a base 195 special Grass-type attack.

Black Hole Eclipse (Dark)

Physical – Converts one use of Throat Chop into a base 160 physical Dark-type attack (or Foul Play into base 175).
Special – Converts one use of Dark Pulse into a base 160 special Dark-type attack.

All-Out Pummeling (Fighting) – Converts one use of Focus Blast into a base 190 special Fighting-type attack.
Overview
Shiftry is a potent Chlorophyll user, especially in lower tiers, because of its mixed offensive base stats, setup options for both sides of the spectrum, and a decent dual STAB combination. Just having Dark STAB distinguishes it from other Chlorophyll users, allowing it to hit most Steel-types for neutral or greater damage without needing a coverage option, in addition to giving it a form of STAB priority (Sucker Punch) in case sun dies. That's all there is to it, really.
Sets
Set 1: Physical
Shiftry @ Life Orb
Ability: Chlorophyll
EVs: 252 Atk / 4 SpD / 252 Spe
Adamant Nature
– Leaf Blade
– Knock Off
– Sucker Punch
– Swords Dance
Base 100 Attack with Swords Dance makes Shiftry a fairly strong physical attacker for its tier. Leaf Blade and Knock Off are its most powerful STABs; the former has simple and reliable damage output, while the latter deals more damage to item holders and gives Leftovers/Eviolite users a hard time. As mentioned earlier, Sucker Punch is STAB priority for when sun fades. It also deals more damage against itemless foes than Knock Off, but it has meager PP and requires considerable prediction to use to its fullest potential.
Chlorophyll and Life Orb, along with offensively oriented EVs and Nature, are obligatory for maximizing Shiftry's offensive potential.
Set 2: Special
Shiftry @ Life Orb
Ability: Chlorophyll
EVs: 252 SpA / 4 SpD / 252 Spe
Modest Nature
IVs: 0 Atk
– Energy Ball
– Dark Pulse
– Focus Blast
– Nasty Plot
Base 90 Special Attack with Nasty Plot makes Shiftry a fairly strong special attacker for its tier. Energy Ball and Dark Pulse are the most reliable special STABs at its disposal, with added chances to lower Special Defense and cause flinches respectively. However, Shiftry has no special priority, so it is preferable to add a coverage option in Focus Blast, which helps it deal with Steel-types and opposing Dark-types that resist its Grass and Dark STAB respectively.
Set 3: Mixed
Shiftry @ Life Orb
Ability: Chlorophyll
EVs: 252 Atk / 4 SpA / 252 Spe
Naughty Nature
– Leaf Blade
– Sucker Punch
– Focus Blast
– Growth
Since the fifth generation, Growth boosts the user's Attack and Special Attack stats by 2 stages under sun (1 otherwise). In other words, it's ordinarily like Work Up, but sun turns it into a combination of Swords Dance and Nasty Plot, which offensively is nuts. This set uses Leaf Blade and Sucker Punch for STAB options, alongside Focus Blast as a coverage option.
EVs and Nature focus primarily on physical offense, because that's where its STABs are. Naughty Nature is preferable over Lonely to make Shiftry less prone to Mach Punch, Ice Shard, and other opposing priority.
Other Options
Instead of setting up, Shiftry could potentially run an all-out attacking set, or perhaps serve as an offensive Defogger. With no need to set up, Shiftry can run Leaf Storm without much worry.
On the physical side, Rock Slide is a considerable option for Fire-, Flying-, and Bug-types that resist its Grass STAB. Shiftry also has physical Fighting-type coverage options such as Brick Break, but they pale power-wise in comparison to Focus Blast, especially against the physical walls that the Fighting coverage is meant to hit harder.
On the special side, Extrasensory breaks down bulky Poison- and Fighting-types.
Problems and Partners
Problems



Faster Chlorophyll users can beat Shiftry at its own game, given they play carefully around Sucker Punch (granted Leafeon has more room for error due to its high physical bulk). Leafeon and Lilligant don't have much coverage-wise, but Sawsbuck has Jump Kick.


Fighting-type Mach Punch users threaten Shiftry's not-so-great 90/60/60 defenses while also being resistant to Sucker Punch. Gurdurr is threatening to physical sets due to Bulk Up, while Hitmonchan is better at handling special sets.

Sturdy and Sash have potential to throw a wrench into Shiftry's plans, unless for whatever reason Shiftry is running Bullet Seed. In particular, Avalugg has obscene physical bulk for dealing with physical sets, Sturdy in case of an unexpectedly potent attack, and Avalanche to retaliate with heavy damage.
Partners





Honestly, sun setters are all you need to support Shiftry. Illumise, Liepard, and Volbeat are particularly effective by virtue of their access to Prankster and U-turn. Mesprit also has U-turn and boasts particularly high stats for its tier. Regirock is the only one without U-turn, justified by its stellar 80/200/100 bulk and access to Explosion to grant a free switch once its job is done.