The new generation has come. Pokémon Sun and Moon have been released worldwide, and I beat the game in roughly 48 hours (I haven't quite enjoyed all of the postgame content, but I've at least gotten started), so I'm ready to adapt to the new generation. That's right; Poké Monday will now involve random numbers generated from 1 to 802 (yes, including the unreleased Marshadow) and also start on a clean slate, meaning that Pokémon already reviewed on prior Poké Mondays will just be re-reviewed (especially due to the introduction of Alolan formes, notably Diglett). Speaking of which, let's take a trip down memory lane and look back over the 6th generation analyses.
2014
2015
2016
That aside, regarding Gen 7 analyses, I decided to change up the formatting a little, in hopes that I can not only accommodate the new Z-moves but also make the post look better in general. Shown below is a brief preview demonstrating some changes that I plan on making. (Specifically, this part of the review is meant to be between the Pokémon/RNG images and the "Overview" heading.)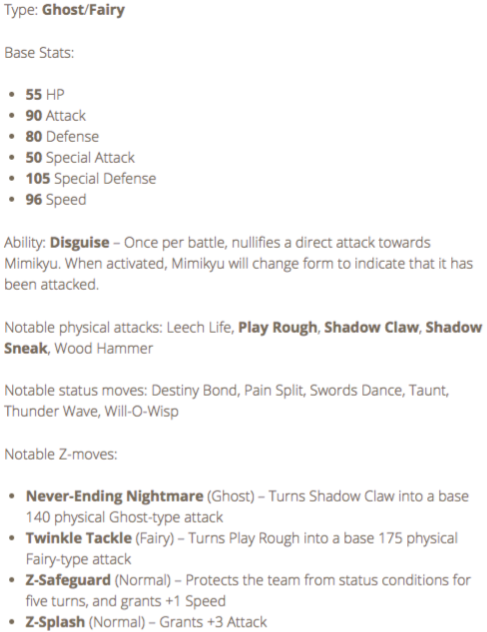 For one thing, important words/numbers are bolded, including typing, base stats, Abilities, STAB moves, and Z-moves. What's more is that I organized the notable moves based on my own judgement instead of just copying off of the usual list from Pokémon Showdown. This way, I can set aside moves that are universal (like Frustration/Return and Toxic), weak, redundant, and/or come off of a far weaker attacking stat. In this case, I omitted: Dark-type attacks because they are redundant with Ghost STAB; special attacks because of the base 50 Special Attack; Trick Room because of the base 96 Speed; and other moves that have situational-at-best effects in general.
Thinking further beyond, I will no longer provide sample teams; the associated segment will be replaced with a different segment named "Problems and Partners," which elaborates upon two different sets of Pokémon: those that are threatening to the reviewed Pokémon, and those that would make good teammates for the reviewed Pokémon. Again, a brief preview: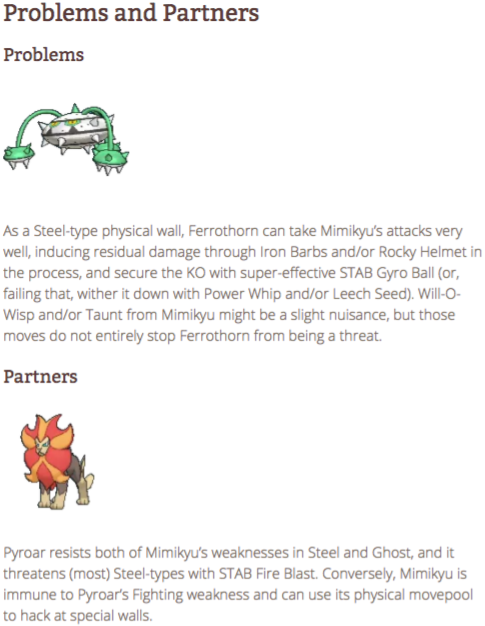 I think that's all I have to say for now. Stay tuned for the next review, which will come out before midnight (eastern time) tonight!