From left to right: Yō Kasukabe, Asuka Kudō, Izayoi Sakamaki. This trio of teenage troublemakers forms the essence of the light novel series Mondaiji-tachi ga Isekai kara Kuru Sou Desu yo? (which translates to "Problem children are coming from another world, aren't they?"), or Mondaiji for short, by Tarō Tatsunoko. As the story goes, the problem children are blessed with godlike super powers known as Gifts. Specifically:
Yō's Genome Tree allows her to communicate with animals and call upon the powers of those whom she has befriended.
Asuka's Authority can be used to manipulate lower-level beings or to bring out the utmost potential of other Gifts.
Izayoi's Code Unknown gives him super strength, which includes the ability to cancel other Gifts.
Consequently bored with their daily lives, the problem children receive an invitation to the world of Little Garden, which they naturally cast aside their own worlds to accept. Little Garden can be described as a haven of many convergent histories: past, present, and future; tangible and conceptual. For example, each of the three problem children is summoned from a different era: Asuka from the post-WWII era, Izayoi from a modern point in time, and Yō from the future; plus many residents of Little Garden are not merely human. Take for example the first one whom the trio meets: Kuro Usagi (Black Rabbit).
She is a human-like "moon rabbit" who, after requesting that the problem children be summoned, introduces them to Little Garden and tells them the ins and outs thereof. The central point of her introductory lecture is that being in possession of a Gift grants one the privilege of participating in Gift Games, which are more or less the law of Little Garden. The concept behind Gift Games is simple: a Host establishes an objective accompanied by a prize for the Player(s) who complete the objective. A Gift Game may or may not include conditions to affect how the Player(s) behave or what the Player(s) put on the line.
Another point of Kuro Usagi's lecture is that it is required to be part of a Community…and of course she invites the problem children to her own Community. However, because the Community is in shambles as a result of a Demon Lord attack, her primary motive is to have the problem children use their top-tier Gifts to work towards reclaiming the name and flag of the Community. Although Izayoi figures out the ulterior motive, he fully accepts the invitation to the no-name Community, fixated on the idea of taking on other Demon Lords as they seek out the one who attacked their Community. (Asuka and Yō have no objections either.)
So, I guess that about covers the introductory plot points. Anyway, back on track with the problem children. They may have top-tier Gifts, but they like to cause trouble wherever they go, particularly by messing with Kuro Usagi (through which they respectively play boke and tsukkomi). In terms of personality, Izayoi is a forward type of guy who describes himself as "vulgar, brutal, and hedonistic", Asuka is sassy, and Yō is the type to play along. All I'm saying is…everything about this trio is just awesome, and that's primarily what leads me to adore the Mondaiji series as a whole.
Speaking of the series, the structure thereof is as follows: While the original light novel has 12 volumes, the manga adaptation has 18 chapters that cover the first two volumes, the spinoff manga (Mondaiji-tachi ga Isekai kara Kuru Sou Desu yo? Z) has 15 chapters, the anime adaptation has 10 episodes (also covering the first two volumes) plus an OVA (which does not cover any part of the light novel), and the sequel (Last Embryo) is currently at volume 3.
Honestly, it's a shame that the anime, as short as it is, has no more than one season. Then again, there's so much more content covered by the light novel, including stories of the past (particularly in volume 9 and the second half of volume 8), and I suppose the conclusion of the Pied Piper of Hamelin Gift Game is a better stopping point than any. If there were a second season, I imagine it would cover volumes 3-5, even though that's a greater number of volumes than how many the initial season covers (because the Harvest Festival in Underwood, introduced in volume 3, does not conclude until volume 5). Then again, therein lies another issue: What about subsequent seasons? Volumes 6-12 cover a lot of content (although 1.5 volumes are stories of the past) and are chock-full of cliffhangers, so it would be tough to decide how to continue from a hypothetical second season. For that reason, at this point, I think a Last Embryo adaptation would be more likely than a second season of the Mondaiji anime, and also because the anime has gone so long without a second season that the sequel to the light novel is already in progress. I haven't actually read Last Embryo (yet), but…yeah, that's what I think. Sadly there still remains the possibility that the Mondaiji series won't even get another anime adaptation, but…a man can dream.
So, how did I happen to stumble upon this series? Well, some time around mid to late 2013, when I really started getting into anime, I was part of an online community of Expert Guitar Hero players, and one had a profile picture looking kinda like this:
…and so part of me was curious as to who this bunny girl might be. At some point, I stumbled upon the manga titled Mondaiji-tachi ga Isekai kara Kuru Sou Desu yo? Z thinking, "Wow, this is a long title. Let's see what it's about. Hey, I recognize that bunny girl! I wonder if there's an anime of this…" Surely enough, there was. I watched it fully and also read the spinoff manga. My thoughts at first were: "Well, it's pretty good. I'll just leave it at that." But then, some time late 2014, I decided to watch the anime again. Then it ended up becoming my favorite, and to this day it still is.
I mentioned that the problem children themselves are the primary reason; other reasons include the video that accompanies the ending theme song "To Be Continued", the opening theme song "Black † White" to some extent, the voices of Izayoi and Shiroyasha (by Shintaro Asanuma and Satomi Arai respectively), the characters in general (Ratten is the only one I would say I even remotely dislike), the idea of a Community in shambles rising to reclaim their name and flag with the help of a particularly strong set of players, the reasonable level of fanservice (although the OVA takes it a little far), the deepness of the lore, and the thought and action involved in the Gift Games.
As for other parts of the series, I have not read the manga adaptation nor Last Embryo, but I have read the spinoff manga and light novel. Starting with the spinoff manga, I would say that it focuses more on the comedic aspect of the Mondaiji series, including the boke+tsukkomi moments shared by the problem children and Kuro Usagi, the tension between Pest and Shirayuki of Leticia's maid squad (Shirayuki is the serpent whom Izayoi defeated near the beginning of the story for the water tree sapling, reduced to human form), and poking fun at some new characters as well (such as the butcher and the hamster).
As for the light novel, it extends beyond its adaptations not only in terms of content, but also in terms of descriptiveness. For that reason, I would consider any given adaptation naught more than a preview of the light novel…and the same goes for all light novel adaptations, really. That said, re-watching the anime after completing the entire light novel (and re-reading the spinoff manga) was a refreshing experience for me.
Also, to those who have seen the anime and not experienced the light novel, I would advise against skipping volumes 1 and 2; not only are the volumes more descriptive, but they contain afterwords from the author, and also a few story inconsistencies, including:
In the anime, Kuro Usagi challenges the problem children to an introductory Gift Game to accompany her explanation of Little Garden. This Gift Game does not happen in the light novel.
The female shop assistant, though a minor character regardless (insofar as she is never given an actual name), plays a more active role in the light novel.
In the light novel, Asuka summons Deen, a red iron giant bestowed unto her by the 130 spirits of Rattenfänger, from her Gift Card the second time she sees Ratten. At that point in the anime, she simply appears atop Deen's shoulder.
There may be more that I haven't mentioned, but if so, all the better.
But anyway, the light novel as a whole is really amazing, even though it's very lore-heavy. I would have to say that my preferred volumes are 5 and 12. Volume 12 is an obvious preference because it's natural to prefer newer content over older content (and some of the plot twists in that volume are mind-blowing), while volume 5, along with featuring the girls in swimsuits (which are more appealing than in the OVA), contains what I find to be the most comedic moment in the series: http://pastebin.com/7YPSa3nQ
So, well…that's all I have to say about the Mondaiji series. I can declare with confidence that it is my favorite anime/manga/novel series, although I find difficulty in explaining the exact reason why, let alone recommending the series to others. I've stated most of my reasoning above, although the fact that it's scattered among so many other words is an accurate depiction of how such reasoning lies within my thoughts. Perhaps there's another way…?
Similar Anime
Ah, yes. Whether through inspiration or coincidence, it's likely that any given form of media will somehow be similar to another. In that case, I wish to talk about some anime series that I have watched and find to be similar to Mondaiji, and also try to explain why I prefer Mondaiji.
No Game No Life (henceforth NGNL)
This is the most obviously similar anime series to Mondaiji, because the concept is just about the same: Gifted humans who are bored with their lives are invited to a world of fantasy in which games are law and humans are looked down upon. Also, Sora is strikingly similar in personality to Izayoi. However, as similar as the concept is for both series, there are still some differences: The character set as a whole is different; the world of NGNL is more based on fact and logic whereas that of Mondaiji is more based on myths and legends; the main duo of NGNL is inseparable while the main trio of Mondaiji just so happens to converge from different eras (consequently, the duo of NGNL has no evident difference in level, while the trio of Mondaiji starts off with Izayoi being the strongest (and the others don't even come close until the later stages of the light novel)); the art style and music are evidently different; NGNL is more perverted; and NGNL contains references to otaku culture.
Although NGNL is evidently more popular than Mondaiji, I wholeheartedly prefer the latter. First off, I prefer the art style, the music, and most importantly the character set of Mondaiji. Speaking about the characters: Sora and Izayoi are very similar, but I feel like Izayoi is just cooler, specifically in terms of voice and capabilities. As for the other characters, none of the other NGNL characters really stands out to me (and Stephanie Dola in particular is kind of irritating), whereas Mondaiji has awesome characters in Yō, Shiroyasha, and to an admittedly lesser extent Asuka and Kuro Usagi. I will concede that the whole "fact and logic" aspect of NGNL makes the world and the main characters more relatable, but both series are works of fiction regardless, and so I shall lean towards the more fictitious. That's just how I am.
One Punch Man (henceforth OPM)
Saitama has super strength just like Izayoi, and the other characters have their own quirks as well. That's where the similarities end, I guess. Talking about differences, the world of OPM has a one-world structure, and the hierarchy is more individual-based than community-based; in OPM each hero is given their own rank based on heroic prowess, whereas in Mondaiji each Community can choose to reside on a certain level based on its overall prowess in Gift Games (or something like that). On that note, while Saitama is obviously the main character of OPM, Izayoi is more like one of a trio of main characters (i.e., the problem children). Heck, OPM and Mondaiji are completely different genres: super power parody and parallel world fantasy, respectively. (On another note, OPM is manga-based whereas Mondaiji is novel-based, and OPM is getting a second season soon.)
This comparison is a toughie. In regards to personal ranking, I would say that OPM is a close second to Mondaiji, and one reason is because Saitama is such a similar character to Izayoi: a guy with super strength who does what he does for fun. Saitama has his own fair share of quirks as well, particularly that he usually takes on a bland appearance like on the cover, but then his appearance changes when he gets serious, like this: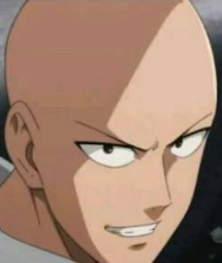 Regarding the music, I would say OPM has a better opening theme, but the ending theme…is not my type of song. What ultimately leads me to like Mondaiji better, though, is that OPM doesn't quite have as stellar a set of side characters…although Genos and Mumen Rider are pretty cool. (Tatsumaki would be cool as well if she didn't have such an annoying voice.)
Kono Subarashii Sekai ni Shukufuku wo! (henceforth KonoSuba)
10-episode (plus 1 OVA) light novel adaptations with long titles, parallel world fantasy genre, and quirky sets of four characters (three female and one male) aspiring to defeat a certain Demon Lord. As for differences: Kazuma is the only one of the four main characters known to originate from the real world (at least as far as the anime canon goes) and usually the one to play tsukkomi amongst the quartet; the characters of KonoSuba start off weak instead of strong (although Megumin isn't so much weak as she is limited); KonoSuba actually has RPG themes and is (arguably) more perverted; and the art style is evidently different.
KonoSuba is a pretty good show, particularly in the comedic department, but if there's anything that I would point out as bothersome, it would be the art style. It's not so bad in the manga and light novel (though I've only seen covers of the light novel), but in the anime it's…unsettling. On that note, it bugs me how Aqua's butt and Luna's (the quest giver's) breasts are so ridiculously exposed in their regular outfits. Mondaiji, on the other hand, only has Ratten with that caliber of exposure. (I mean, Kuro Usagi and occasionally Asuka show some cleavage, but that's not too bad.) Plus, it shouldn't be a surprise at this point that I prefer the characters of Mondaiji over those of KonoSuba, and the only KonoSuba characters who can remotely contend are Megumin and, to a lesser extent, Kazuma. Also, to me, the opening and ending theme songs of KonoSuba are nothing special.
Conclusion
I'm not saying that Mondaiji is for everyone, because that would be a total lie; I'm just saying that Mondaiji is the series for me, and part of me is saying that the series gets less recognition than it deserves. I also don't mean to imply that anyone who prefers any of the above three shows over Mondaiji is wrong, because most of the comparison factors that lead me to prefer Mondaiji are pure bias, and openly slandering opinions is uncool. I'm just saying: If anyone, preferably who has seen any or all of the above three shows, has not watched the Mondaiji anime yet, I would recommend giving it a try. If anyone has already given it a try, I would recommend waiting until about a year after the first time watching and giving it another try, because sometimes once is not enough (as was the case with me). However, if anyone has already done so and still does not enjoy the anime as I do, then so be it.
That's all that I have to say. I hope this writing was enjoyable and/or informative; if not, I apologize.
 À la prochaine! (Until next time!)