If nothing else, I've taken care of the class that I was having trouble with (or at least I think I did; I still haven't received a grade yet, but I believe I did as well as I could). While I am still job hunting, I certainly feel more free than I did before I went on hiatus.
 So, I'll take a moment to make this post as a (somewhat late) celebration of the second anniversary of my first post on this blog! 
Where to start? Phoenotopia, of course! I recently established a new personal best in 100% – 1:48:16 RTA [1h 50m IGT].
Here's a Q&A: http://pastebin.com/sK8RvDXZ
and here are some notes: https://docs.google.com/document/d/1sh24AIMHZMOGKP0edweEL-G83qpGomCSB275pOzAKbE/edit?usp=sharing
I don't have a detailed route this time, just a set of notes that I use to make sure everything has been accounted for.
As before, note that I will be using timestamps very frequently throughout this writing, and they pertain to the video, not the splits.
First off, I wish to go over the new strats that have been introduced to the route:
Instead of Sunflower Road dupes, dupe in Duri Forest frog room [7:49] and break the eastern Sunflower Road chest normally [13:15] (Door Push to bypass the first key door [6:00])
Move Bandits' Lair "pit of hell" moonstone to backtrack (was planned to be implemented, but I ended up making a mistake and having to improvise my way out of it [19:46])
Pot Head Clip through barricade for second key (in Bandits' Lair) [21:05]; use Tumond near the end of Daea prison [42:44]
Swat at the Ghost Wasp swarm on the way to Misty Gorge Heart Ruby instead of standing still and letting them attack [27:53]
In Daea, use Pot Head Clipping to obtain the first moonstone as opposed to the intended way (Remember to let the chest rest on your head before jumping!) [33:57]
Substitute Daea sewer dupe for Cell CIII dupe (20 extra Rai) [38:01]
Move KMG Heart Ruby over to Prince Tower backtrack [1:29:13]
Door Push to obtain the moonstone past the O-door in Dread Lands prior to backtracking (also removes the need to obtain the extra O-key) [51:16]
Pot Head Clip past the second X-door (in Dread Lands) with the moonstone pot on the same screen [53:26] (note that backtracking requires another Pot Head Clip, although not necessarily with the pot [1:36:43])
Move buying the Gold Bar from Atai 3 to Atai 4 (To get to the shop 2F quickly, do a speedy midair throw with the Javelin from the first impermeable roof on the left) [1:18:48]
Extra Honey for Atai well (starting at the barricades (actually revised to a later point [1:10:13]); Pot Head Clip [1:09:41] instead of going for the switches)
Save Lab moonstone in Panselo [1:15:14] for last; use the Pot Head Clipping method [1:14:31] to get the other two
For Sunflower Road west moonstone, find two leaves positioned the same horizontally and hover from the top leaf [1:16:58]
Do Misty Gorge 2 before Adar's House 2 so that the honey boost from Atai 4 carries over to the Translucent Meat farm (making it faster) (once again, was planned to be implemented, but I decided to change course because I got the Translucent Meat early)
Major rerouting of Forgotten Forest (https://youtu.be/HuJOc5yglcM, but preferably with pressure plate puzzle over Javelin Bomb Jump) [1:37:37]
I will totally admit that the run has its fair share of execution faults (and I'm especially bitter that I failed Arc Skip of all things [1:03:11]), but I don't think there's any way that I can improve the route any further. I have to say, though, it's good to know that Pot Head Clipping and Door Pushing have uses beyond the applications through which I discovered them. Pot Head Clipping in particular has become a lot more useful, especially now that I found out two things about it that I didn't know before:
You can clip past a key door from the left, even with nothing behind you (but when you clip from the right, there does have to be something behind you)
If the container on your head contains a moonstone or inventory item, performing the clip while the container is stationary will cause Gale to collect the item and jump afterwards.
The following GIFs below (captured using Giphy) demonstrate both of the above points at once.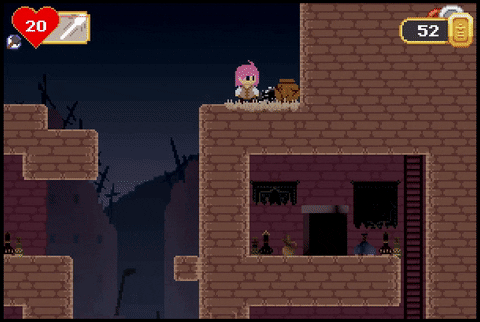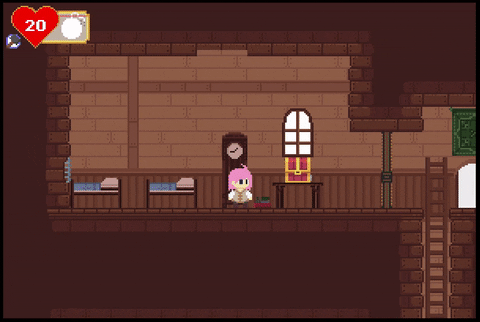 It's gone a long way from having more use clipping out of bounds than saving time, to be sure.
Also, when developing the route, I didn't completely factor in what would happen if you were to obtain Translucent Meat from the Ghost Wasp swarm guarding the Misty Gorge Heart Ruby. It's easy, though: just do the delivery and Sandwich stuff a bit earlier. It throws the route a bit out of whack, but not to an irreparable extent.
Additionally, while I was rehearsing and fine-tuning the movements required for ideal execution, I found some tricks that will prove to be useful in improving my any% time as well:
Charge-attacking the toads at 3:47
The movement tech at 6:16
Because of the nature of the rubble between Adar's House and the bomb cave (at 17:33), I now know that it's better to not use a Jar of Honey until after blowing up that rubble.
Getting more risky with the dog and guard at 37:37
A better way to initiate the "guard gauntlet" (as I call it) at 40:11
Minor optimization for the first floor of Prince Tower (at 43:32)
Picking up the bomb at 50:46 and using it to blow up the rolling bombs at 50:52 (faster than using any inventory item)
The Pot Head Clip to skip the second X-door in Dread Lands (best demonstrated at 1:36:43) is useful for any% as well
Pulling out a bomb (like at 1:02:44) in order to make it easier to break the set of crates containing the one E-Soda in the route
Using bombs like the one placed at 1:44:08 to disable the smaller eyes of Big Eye without having to shine the Artifact on them (as I witnessed in a rehearsal run, this could lead to defeating Big Eye before it gets to its second phase of ropes and spheres)
Keeping these tips in mind, I was doing a bit of practice on any%, and I vividly recall that I ended up with 55m in-game time. The question remains whether sub-53 RTA is possible, however. That said, I feel like it is possible, but at the same time, I have this lingering suspicion that it will take a while to grind.
The most important fact about Phoenotopia that I have to share, however, is as follows: Loot Duping is not pixel-perfect; it has a three-pixel window. As such, I apologize for all the posts and runs in which I assumed otherwise. On the bright side, this fact makes it so that I don't have to waste as much time Loot Duping on average. In light of recently discovering this fact, I created a new document based on what loot containers can and cannot be duped (which is like the Loot Dupe Positioning document that I had formerly compiled, but more detailed and with a few more loot containers that I missed):
https://docs.google.com/document/d/1VYxyuETFRONT9WAC8PD5IbJn6rz2mora7GUP_IMzq-k/edit?usp=sharing
Second, here's a rundown of my progress through Fire Emblem Fates (Birthright). I've made it to Chapter 27, with only one unit lost but several resets along with that. I tried to make it with as few resets as possible, but most, if not all, of the resets were on the grounds of being fatally unprepared.
One particular example I can think of is in Mitama's paralogue. The thing is, when I play Fire Emblem, I usually play on the defensive, taking into consideration the potential damage outputs of all enemies and using that insight to take an action that would make all my units statistically incapable of dying (if possible). However, this sort of mentality meant that protecting the building in the middle of the area was something that never crossed my mind, and that led me to realize a vital fact that I learned the hard way: if an Adventurer reaches that building, it's instantly destroyed. When this happened on my first run-through, I could not accept the fate of never meeting Azama's child, so I saw fit to reset. On the second run-through, though, I went on the offensive (as much as I could, anyway), making sure that Azama (and Rinkah) made it to the building as soon as possible, and it worked out much better.
Another such example is in Chapter 23, wherein I carelessly sent Caeldori and Kiragi as far up from the far right as I possibly could, thinking it would be completely fine. However, I learned the hard way that Camilla had access to a trio of Dragon Veins right beside her, a vital fact that I didn't notice before I ended turn 1. The veins in question trigger heat waves that deal exactly 10 damage to allied units—and destroy obstacles—in the path thereof, and the fact of the heat waves destroying obstacles was what led my unfortunate pair to winding up in fatal danger. I felt that I could not accept this fate because I had no prior knowledge of those Dragon Veins whatsoever, even though I could have (although I probably wouldn't have guessed that the Dragon Vein had the side effect of destroying obstacles), hence the reset. Also, the fact that those Dragon Veins can be used infinitely makes the situation all the more frustrating.
Anyway, regarding the loss that I actually accepted, it was the unfortunate and irreplaceable death of Azura, in Asugi's paralogue. This paralogue in general was a toughie, forcing me to play more aggressively than I would normally deem comfortable. In spite of this, there was a point in the mission where I felt like I could rest easy for a moment…at least, that's what I thought, until an Adventurer on the left side opened the door closest to the boss, and some Sniper—whom I hadn't factored in at all—was in range of Azura and straight OHKO'd her. I could have avoided the chance of the OHKO (and maybe avoided the OHKO altogether) if she had been wielding the Dual Nagitana in her inventory, but the enemy had just come out of left field, and it's normal to want to have a 1-2 range weapon (Bolt Nagitana) equipped by default when it comes to emergency situations like that. Plus, I just didn't want to reset on that one because I couldn't be bothered to do the whole mission again from scratch.
To end off this section, here is an updated unit overview. All pairs are S-rank unless specified otherwise. Also, I decided to remove prize units (and bond units) because I can't be bothered to list all of them, considering I have the maximum allowable quantity.
Draco (Lv.21 Hoshido Noble) + Hinoka (Lv.21 Falcon Knight)
Shigure (Lv.18 Falcon Knight) + Kana (Lv.17 Hoshido Noble)
Rinkah (Lv.16 Blacksmith) + Azama (Lv.18 Great Master)
Oboro (Lv.17 Spear Master) + Saizo (Lv.18 Master Ninja)
Asugi (Lv.16 Mechanist) + Sophie (Lv.15 Great Knight)
Caeldori (Lv.11 Falcon Knight) + Kiragi (Lv.12 Sniper)
Hisame (Lv.13 Swordmaster) + Rhajat (Lv.33 Witch)
Hayato (Lv.14 Basara) + Sakura (Lv.13 Onmyoji)
Setsuna (Lv.8 Sniper) + Takumi (Lv.7 Kinshi Knight)
Kaden (Lv.6 Nine-Tails) + Hana (Lv.6 Master of Arms)
Silas (Lv.5 Paladin) + Mozu (Lv.5 Merchant)
Felicia (Lv.30 Maid) [married Hinata when he was alive]
Subaki (Lv.7 Kinshi Knight) [married Azura when she was alive]
Kagero (Lv.2 Mechanist) [married Kaze when he was alive]
Mitama (Lv.5 Priestess)
Selkie (Lv.4 Nine-Tails)
Yukimura (Lv.10 Mechanist)
Shura (Lv.10 Adventurer)
Izana (Lv.5 Onmyoji)
Ryoma (Lv.4 Swordmaster)
Jakob (Lv.13 Butler)
Reina (Lv.2 Kinshi Knight)
Scarlet (Lv.1 Wyvern Lord)
Finally, some brief talk about the anime that I'm currently watching this season.
 That's all for today! Vouiv-review is back on its regular schedule until I say otherwise!